&nbsp &middot &nbsp &middot

February 28, 2012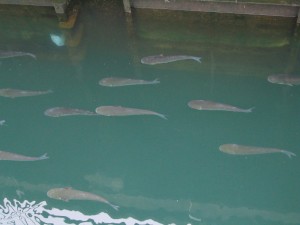 I was down Weymouth Marina working today when I looked in the water by the sluice gates going into Radipole Lake. I was more than pleased to see the return of hundreds of Mullet. To me this seems incredibly early. I hope this heralds the arrival of some of the other summer species.
The Mullet are mostly thin lips and as a rule they wont start to feed properly for a few weeks yet. It might still be worth a quick go at them with a baited Mepp. I will post if I get a chance to have a go at them in the next few weeks, or if I am really lucky; days.