&nbsp &middot &nbsp &middot

March 31, 2014

This weekend produces some surprise catches on Chesil Beach, with Smoothound and even Cod being landed. It wasn't just one off fish either. It seems we are having a late spring run of Codling, with fish up to 8lb coming from Abbotsbury and Cogden. The same marks produced a number of Smoothound on both Saturday and Sunday. The Smoothound were caught on Peeler Crab and Squid baits. It would be great to think that both species would be around for a while, but is most likely they will move on along the coast quite quickly. We don't normally see numbers of Smoothound until May.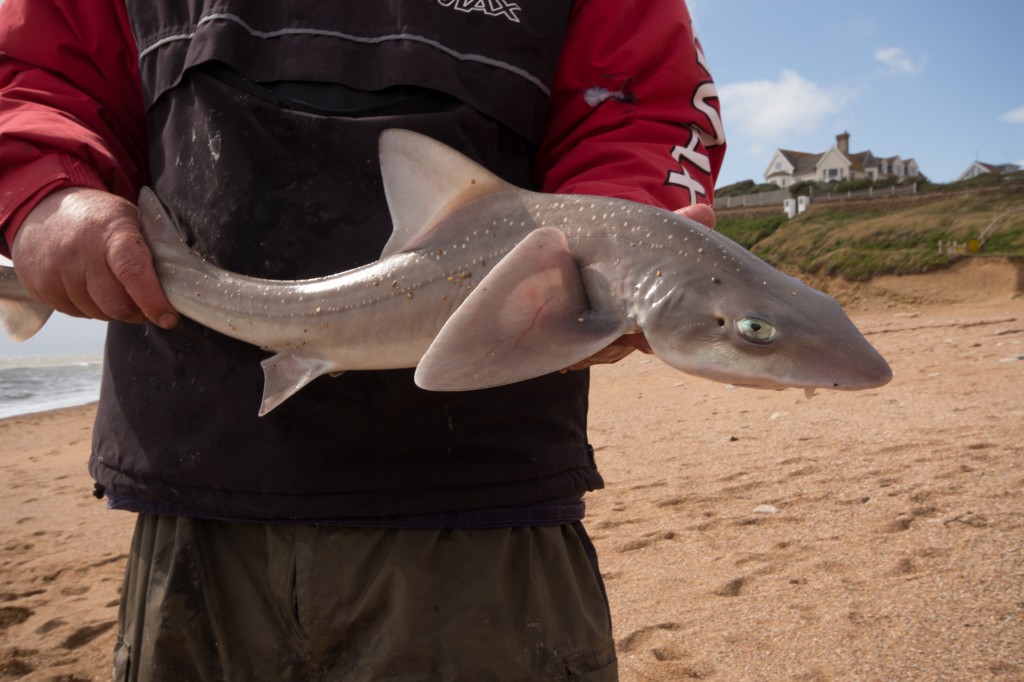 The expected Plaice have either not arrived yet, or the milky coloured water is making it very difficult to catch them. I had a report from Jim Read, who has been out boat fishing off the West Bay area. He traveled the length of Chesil and told me that the milky water extends about 3 miles offshore from Chesil Cove. As you move further West towards Abbotsbury the water becomes clearer. This supports other reports from yesterday, where other anglers told me that towards the end of the day, the water was starting to clear. With the settled easterly winds for most of the week, the water should be pretty clear by the end of the week.
Sea Conditions:
Water temperature 9.6°c.
Chesil Beach: Calm with lightly coloured water.
Portland: Calm with lightly coloured water
Portland Harbour: Calm with clear water
Weymouth Bay: light surf with lightly coloured water.
Chesil Beach forecast: I would love to think that the Cod and Smoothound will stay around for at least a few days. Without a doubt the best bait to use to target them in the Spring is Peeler Crabs. The reports of the catches all seem to be coming from the western end of the beach, but the Smoothounds will travel quickly all along the beach in search of food.
Pout and Dogfish will make up most of the night time catches, but there have been plenty of Dogfish during the day as well. If the water clears then the Dogfish will only come in at night, but your chance of getting a Plaice is far higher. Expect the Herring and Mackerel to show any day. I mentioned last week about using Hokias for Herring. I appologise to those that went searching the web for them, as I had misspelt the word. It should be Hokkias, but they are easier to find under Sabiki lures, and the ones to use for Herring are the very small ones that you can find in this link Fladen Sabiki Feathered lure rig
Portland: There is a very good chance of picking up Wrasse and Pollock from all around Portland this week. Best spots are going to be the Bill today, then Church Ope until the later part of the week.
Portland Harbour: More Mullet showing in the harbour and some nice Flounder about. I have seen a lot of bait fish activity in the harbour. This is normally followed by Bass.
Weymouth Bay: With a nice surf running along Preston Beach and into Bowleaze there is always a chance of an early Bass. Flounder are still prolific in patches along Preston.
More species will start to appear from the piers in the next couple of weeks, and the Mullet will arrive any minute.
Guiding & Lessons: Now that we are well and truly in the grip of winter, most of my guiding trips for the next few months will be bait fishing trips. If the weather settles and the water clears for a week, then I will go for Pollock and Wrasse on lures. If you are thinking of booking a Plaice fishing trip, I am going to be running those from the second week of March. Until then it will be Wrasse from the rocks and Cod trips if the weather allows. Have a look on the guiding link at the top of the page or drop me an email for more details to [email protected]