&nbsp &middot &nbsp &middot

February 22, 2015

Spain is one of the most famous tourist destinations in the world, especially for British tourists. What makes Spain so special is its weather, culture and amazing beaches. One other thing that make Spain a top destination for a summer vacation is fishing. Fishing is fantastic in Spain, especially deep sea fishing from most of its top tourist cities. In this article we made a list of the top 5 cities for deep sea fishing in Spain. Almost all big game fish are available in Spain from the Marlin family to Bluefin and Yellowfin Tuna. Below is the list of the top 5 spots and the fishing season of each:

The Canary Islands are located closer to Africa than Europe, facing the Atlantic Ocean. The islands includes three major islands Gran Canaria, Lanzarote and Fuerteventura. In all islands you can expect top big game fishing action throughout the year. It is especially popular with anglers looking for a break in the winter, without having to travel on long haul flights.

Fishing Season:

The best fishing season is between April to November especially for Billfish. If you are after the Blue Marlin then you should target Jun and July to increase your bets. If you are a Tuna guy, then the action starts from April and lasts till November. If you are a jigging angler, then winter is a good time to target Amberjacks. Swordfish can also be found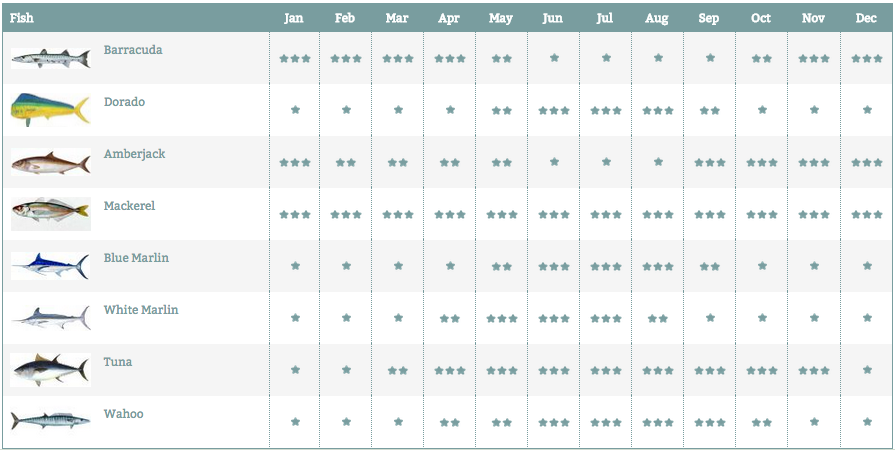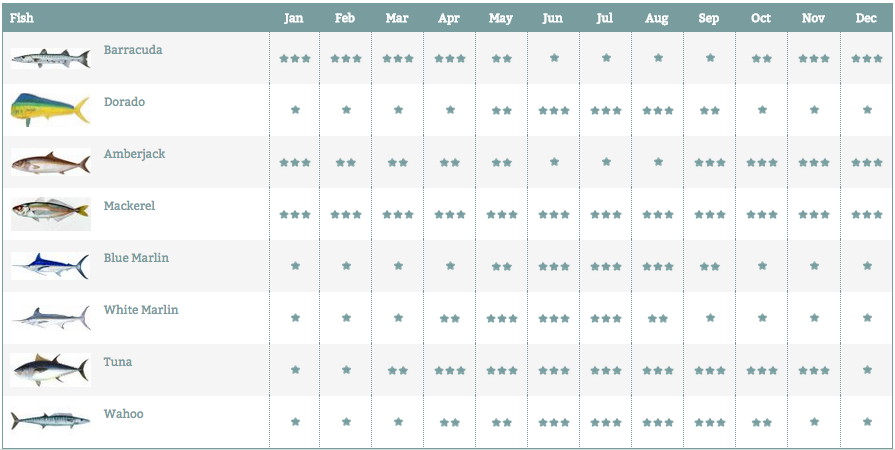 For further information  and fishing trips from 60.00 EUR, click on this Canaries link
Top 5 Fish to target
Blue Marlin
Swordfish
AmberJack
Yellowfin Tuna
Atlantic Spearfish
Majorca is another top tourist destination that is also considered a fantastic fishing spot. What makes Majorca special is that there you can catch one of the most precious fish in the world, the Bluefin Tuna. Keep in mind that the Mediterranean Bluefin Tuna is considered the most endangered fish according to WWF and all Bluefin's caught will be released back to the water.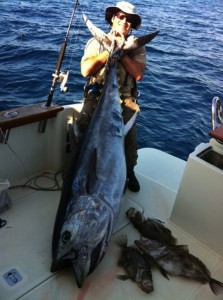 Fishing Season:

Summer is the best time to fish in Majorca. The Bluefin starts to appear on May, however the best time to fish for it is in August and September. Swordfish is another species that can be found in Majorca. Night fishing is the way to go when the Swordfish start to hunt prey in the water surface. The best time to go after the Swordfish is between August to October, however the season starts from May. Dorado's are more abundant during autumn and Groupers can be found all year round. For more information on charters from the different ports have a look at this Majorca link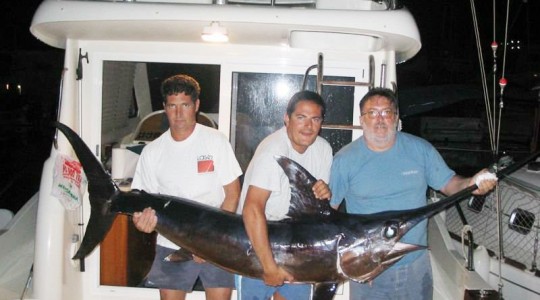 Top 5 Fish to target
Bluefin Tuna
Swordfish
Grouper
Dorado
Shortbill Spearfish
Marbella is famous for it's beaches and yachts. It's also a great fishing spot. Many charters can be found there close to the famous Puerto Banus. The top target fish in Marbella is Yellowfin Tuna.
Fishing Season:
Similar to other Spanish destinations, summer is the best time to fish in general. For the Yellowfin Tuna the best is Jun to Aug, however it's also common to catch it until end of October depending on the weather (warm weather is better). Swordfish and White Marlins are also available close to Marbella, however less abundant than the Tuna. For the Swordfish the best time is in June and July.  Have a look at the Marbella Charters link for more information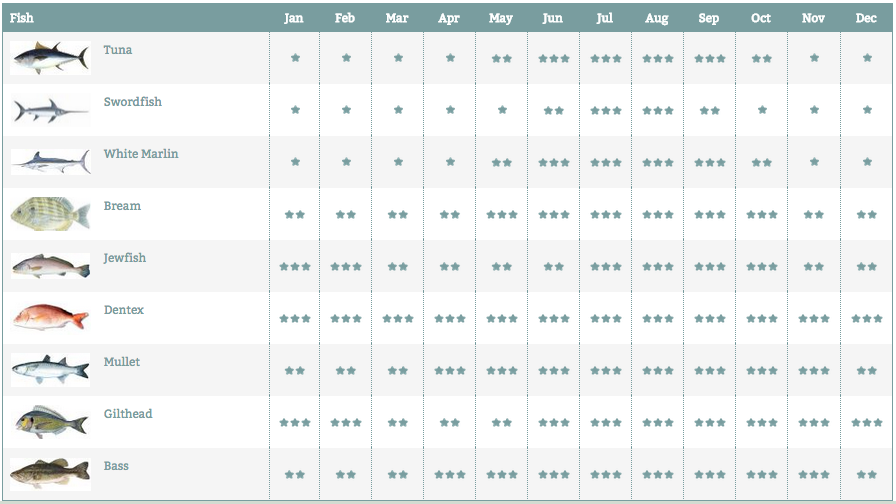 Top 5 Fish to target:
Yellowfin Tuna
Swordfish
White Marlin
Dentex
Sea Bream
Many people underestimate how good is fishing in Barcelona. Fishing in Barcelona is overtaken by other attraction such as the Camp Nou, Sagrada Familia and the beautiful beaches. Yet fishing is actually really good from Barcelona, however most of the charters are located 30-40min away from the city downtown. The Bigeye Tuna should be in your top fish to catch in Barcelona.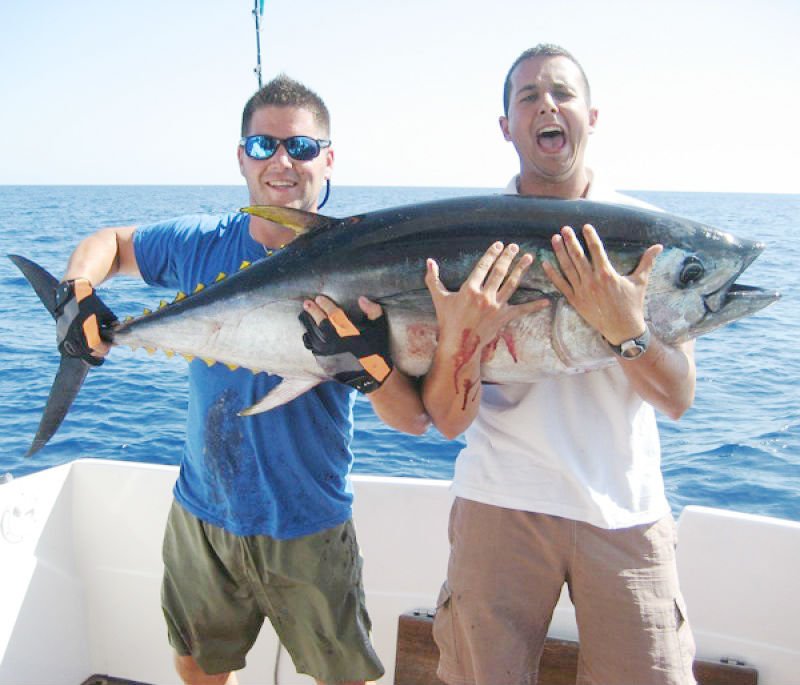 Fishing Season:
If you are after Big Game fish then summer is the best time. May and June are the best for the Bigeye Tuna according to some of the charter captains and they see them again in September and October. Dorado (or Mahi Mahi) is also can be found in Barcelona especially in June and July. Bluefish is another interesting fish that can give you a great fight. The Bluefish is usually found between September and December.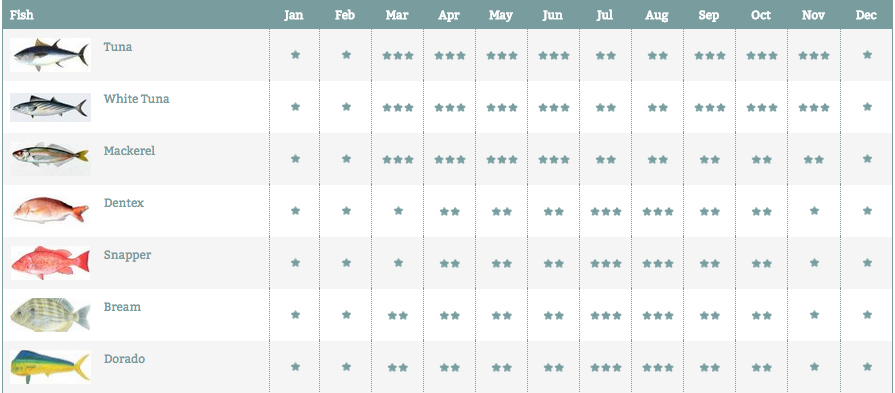 Top 5 Fish to target:
Bigeye Tuna
Dorado
Bluefish
Snapper
Dentex
5- Ebro Delta
If you are visiting the beautiful east part of Spain, then Ebro Delta will be a good choice for you to go fishing. Ebro Delta (or Delta de l'Ebre) is the region of the Ebro river also located south of Barcelona under the same provenance Catalonia. The mix of fresh water and saltwater in this region appears to make the marina ecosystem more vibrant and more diversified. In the Ebro Delta you can find a mix of species such as Bluefin and Yellowfin Tuna, Leerfish, Dorado, Amberjack and Bluefish.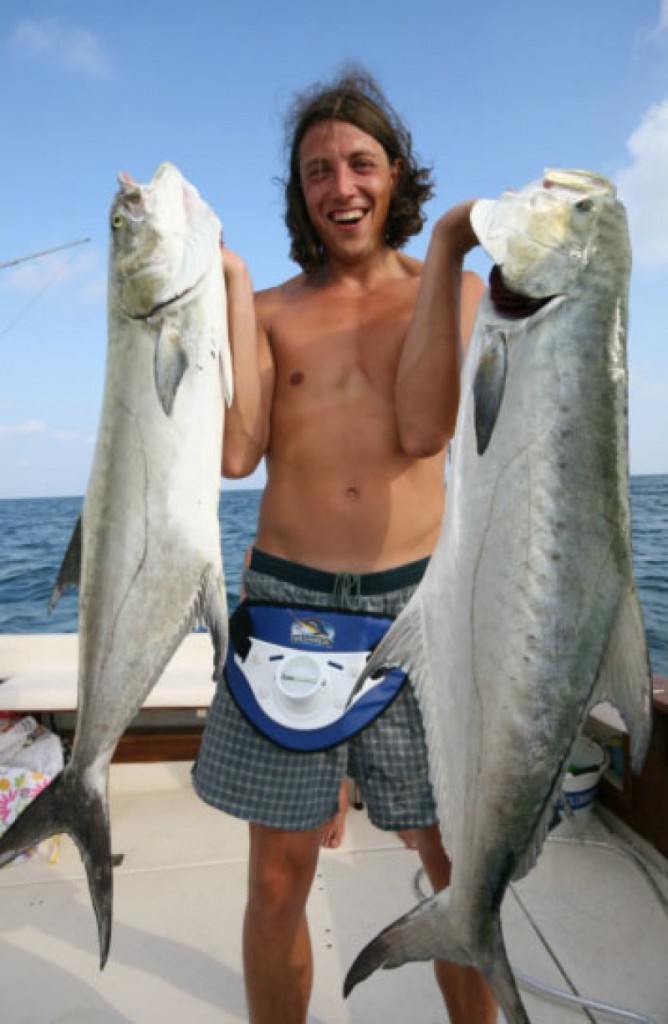 The fishing season: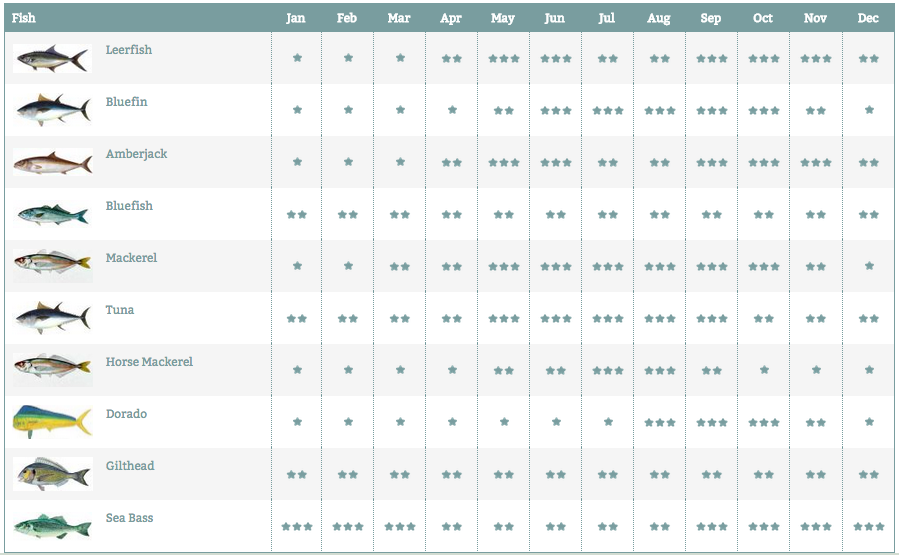 Summer again is best time to go. For Tuna June to September are the best months. For Leerfish (very similar to Queenfish) they can be found between June to October . Amberjacks is the highlight of Ebro Delta, if you love jigging then this might be a great spot for you. Amberjacks here can be found in massive sizes and called Greater Amberjacks. Jacks can be found starting from end of April till November with June and July mark a lower activity.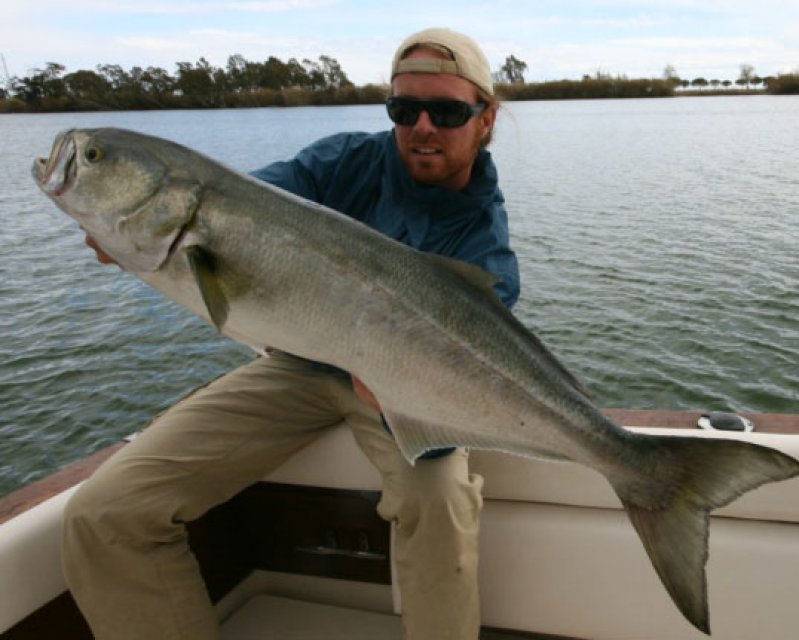 Top 5 fish to target:
Amberjack
Dorado
Tuna (Bluefin and Yellowfin)
Leerfish
Bluefish
Hope you found this article useful to use as a guide for your next trip in Spain. Remember you can always visit fishfishme.com to find and book your next fishing trip.